<![if !vml]>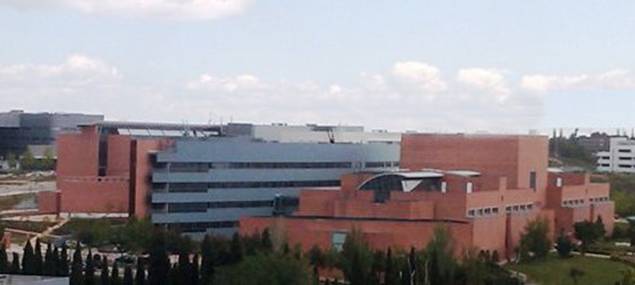 <![endif]>
EUROFORM MADRID POLE
Euroform provides professional training for industry in the areas of FPGA, VHDL, EDA Tools, Embedded Processors and other themes related to microelectronics and the design and construction of digital systems. Euroform technical skills are based on more than 20 years of R&D on FPGA technologies and applications.
Near 800 engineers in Spain have followed our intensive courses covering a wide range of topics around FPGAs. These training bridge the traditional gap between academic logic design courses and the increasingly complexity of current FPGA-based systems and tools. The list of customer embrace almost all the Spanish companies and R&D centers in areas like avionics, space, railways systems, industrial control, video processing, radar, astronomy, telecommunications.
Euroform also maintain an agenda of free technical seminars organized in collaboration with leader companies like Agilent (Instruments), Xilinx (FPGAs), Avnet (Electronic Components), Synopsys (EDA Tools), and Microchip (Microcontrollers) and Future (Electronic Components).
Finally, Euroform offer a service of consulting by providing the industry expertise workforce on FPGAs. Customers can outsource any aspect of their design to our engineers, from systems design and architecture through VHDL coding, synthesis strategy, testing, and physical implementation.
BACKGROUND
Euroform was an UETP, University Enterprise Training Partnership composed of 14 active partners and more than 60 associated organizations (universities, research institutes and companies) in the professional field of Microelectronics and related technologies.
Euroform was established with EU funding under the COMETT scheme in 1989 and the network at that time included France, Germany, Italy and Spain. Ireland joined in 1991 and a further expansion took place in 1996 with the participation of Austria and Portugal. Recently, new partners from Poland, Romania, and Cyprus joined Euroform. The funding for EUROFORM is now provided through the LEONARDO program. Originally, EUROFORM was established with EU funding under the Comett scheme in 1989 and Leonardo program until 2000.
The starting network included France, Germany, Italy and Spain. Main members were:
<![if !supportLists]>· <![endif]>DEIS-University of Bologna.
<![if !supportLists]>· <![endif]>EEE-Trinity College Dublin.
<![if !supportLists]>· <![endif]>EUROFORM-Université Paris-Sud.
<![if !supportLists]>· <![endif]>Universidad Autónoma Madrid.
<![if !supportLists]>· <![endif]>IAEE-Technische Universität Wien.
<![if !supportLists]>· <![endif]>INESC-Universidade do Lisboa.
<![if !supportLists]>· <![endif]>Institut für Halbleitertechnik-RWTH Aachen.
<![if !supportLists]>· <![endif]>LM-IXL Université de Bordeaux.
<![if !vml]>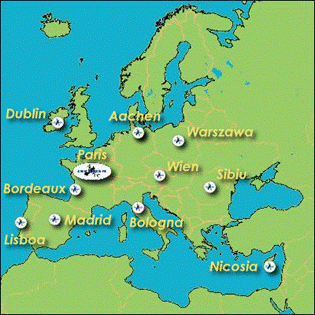 <![endif]>
The objective of Euroform initiative was to create a network of university laboratories specialized on different technologies to provide technical training to SMEs. Owing to its multinational nature, EUROFORM was in a position to provide a multidisciplinary approach to its main activities which include professional training for industry, student placement in industry and the provision of short, specialized courses covering a wide range of topics.
EUROFORM collaborates closely with industry to provide solutions to problems, mainly of a technical nature. An innovative scheme known as ASTER IdF operated successfully in the Paris region for several years, A similar initiative was implemented in Italy and entrusted to Aster Italy
EUROFORM TODAY
The Universidad Autónoma de Madrid jointed the project in the area of FPGA. After finishing the UE funding, the Spanish Pole have been operated independently, being now self-financed by course fees, technical consulting, and organizations of conferences and events related to FPGA technology.
Address:
Digital System Lab
Laboratory C 115 - Building C
School of Engineering
Universidad Autónoma de Madrid
Calle Francisco Tomás y Valiente 11
Campus Universitario de Cantoblanco
28049 Madrid
Contact person: Prof. Eduardo Boemo