Research
I'm a Ph.D. in Computer Science (Universidad Autónoma de Madrid, 2000), Engineer in Computer Science (Universidad Autónoma de Madrid, 1996) and Technical Engineer in Computer Science (Universidad de Castilla la Mancha, 1994).
Research interests:
Modelling & Simulation (continuous, discrete and hybrid) in general, and in particular:
Multi-Paradigm Modelling, in particular Meta-Modelling, and its combination with Graph Transformation for the definition of the syntax and semantics of Domain Specific Visual Languages.
Model-Driven Software Development, Model Transformation, Generative Techniques.

Formal methods in Software Engineering.

Web-based simulation, and its application to distance learning.
Agent-based Simulation, including Social agents and ALife.
Scientific Events I'm involved in:

Recent Past:
Invited Talks:
NWPT'12: 24th Nordic Workshop on Programming Theory.
GTVMT'12: 11th International Workshop on Graph Transformation and Visual Modeling Techniques. Joint talk with BX'12: First international workshop on Bidirectional Transformations (satellite events of ETAPS'12). "Inter-modelling with graph constraints: Foundations and applications" (see slides here)
GRAPHITE'12: First Workshop on GRAPH Inspection and Traversal Engineering (satellite event of ETAPS'12). Graph Transformation with Time for Domain-Specific Modelling and Simulation.
Ex-PhD. Students:
Pedro Pablo Pérez Velasco. Title: "Matrix Graph Grammars". April 2008. See his web site about Matrix Graph Grammars.

Esther Guerra. Title: "Especificación, Análisis y Generación de Entornos para Lenguajes Visuales de Dominio Específico". December 2007, co-directed with Paloma Díaz.

Research collaborations:
TOOLS:
We have built several tools at UAM, sometimes in colaboration with other Universities, among them (in cronological inverse order):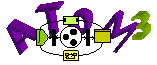 AToM3: AToM3 (A Tool for Multi-formalism and Meta-Modelling, built in colaboration with Hans Vangheluwe, from McGill University) is used to describe formalisms commonly used in the simulation of dynamical systems, as well as to generate custom tools to process (create, edit, transform, simulate, optimize, ... ) models expressed in the corresponding formalism. AToM3 relies on meta-modelling for the description of the language syntax and on graph rewriting techniques and graph grammars to define the operational semantics, perform transformations between formalisms as well as for other tasks, such as code generation or optimization. You can find more information and download the tool here.


OOCSMP: Together with Manuel Alfonseca, we developed an object-oriented continuous simulation language, called OOCSMP (you can download the compiler from here.) This compiler can generate Java and C++ code from the models, and also HTML pages to include the simulation applets and create web documents. These are some documents (courses, interactive articles, presentations) that we have generated automatically using OOCSMP: